---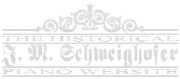 .
· SCHWEIGHOFER · 1892 · CATALOGUE · .
These are images from the Schweighofer 100-year Jubilee Catalogue (published in 1892). The catalogue includes a history of the company, drawings and descriptions of various grand and upright piano models, as well as action drawings and images of the factory. The text is in German.
[Click on the pictures to enlarge them]
Cover & introduction
History
Very old piano models
~ 1792 - Oldest Schweighofer square piano

~ 1842 - Concert grand
Contemporary piano models - in 1892, the date of the catalogue:
~ Concert grands description, model I

~ Concert, medium & baby grand pianos with repetition action, cast iron frame, models I, Ia and II

~ Medium & baby grand with repetition action, models Ia and II (description)

~ Concert grand & smaller pianos with Viennese action, cast iron frame, models III and IV

~ Mignon grand with Viennese action, cast iron frame, model VII

~ Grands with composite (forged) iron frames, models V, Va and VI

~ Upright piano, baroque style

~ Upright piano, "black wood" style
Action drawings
Fig. 1 - double escapement repetition action for concert grands
Fig. 2 - half-English (or Anglo-German) repetition action for model Ia and II grands
Fig. 3 - Viennese action
Fig. 4 - upright piano action
Factory & Clavier-Salon:
The catalogue was graciously provided by Alexander Langer from Klagenfurt, Austria. He can be contacted for more information at alexander@klavierhaus-langer.at .
Updated: 08.10.2006
---