---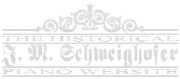 .
· SCHWEIGHOFER · PIANOS · FOR · SALE ·
These pianos are being sold by their respective owners. Schweighofer.tripod.com is not involved in the transaction and does not does not take any responsibility for the information provided or any other issues pertaining to it. Any interested parties are advised to contact the owners directly.

0027 1853 Opus 1027
0028 1872 Opus 3756
Concert grand with Viennese action
Concert grand with Viennese action

If you would like to advertise your piano for sale here, please send an email with the relevant information: pictures, serial number, condition, age, action type, piano length etc.
Updated: 01.05.2010
---